TL;DR
Please note that I have regained access through a workaround, however, I am interested in the process for resetting the admin password since there is no password field in the gibbonPerson table.
The Problem:
I have tried resetting the admin password in the database using https://ask.gibbonedu.org/discussion/comment/1435/#Comment_1435, however, there appears to be no "password" field in that table. I get "Error in query (1054): Unknown column 'password' in 'field list'". These are the only fields containing the word "password":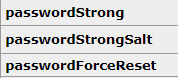 Due to not having setup STMP beforehand, I was stuck, and Gibbon was prompting me to reset the password. I ended up setting FailCount to 0 in order to get back in. Please let us know the best SQL command to use to reset the password, since the "password" field is missing.