Hello @sanda @rossdotparker,
v25.0.00
What could be the reason for getting inconsistent mappings/values on the rollover STEP 2 screen? The Form Groups are mapping okay based on the Next Form Group values set. But the Year Groups (which are in the proper sequence/order) sometimes have the next year right and sometimes do not. Is it not using the sequenceNumber value in GIBBONYEARGROUP to pick the next Year Group for the student? The results are not consistent.
In the line I have highlighted, the student is in Basic 3 and should moving to Basic 4, but instead is moving to Basic 8. Students in both Basic 3 and Basic 7 are being moved to Basic 8 (for the year group).
This is the second school where I have seen this.
Regards,
Tieku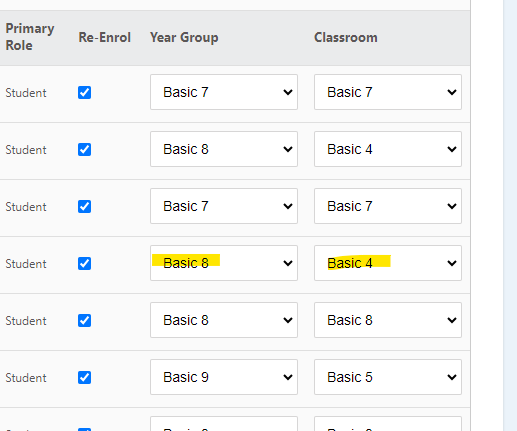 ++++++++++++++++++++