Hello,
This may have already been discussed in a previous post or solved in the most latest version as I am still running v13.0.02.
I am set up as a teacher but with administrator rights. Not perfect but when testing a new system and trying to muddle my way through a steep learning curve off the back of a Category 5 hurricane with no Internet access in school or at home for eight weeks, you try to make things easier.
I came across a problem when updating attendance for one of my class groups ICT08.1 who have lessons on Monday, Wednesday and Thursday, and instead entered attendance for a non-timetabled day - 26th. I also noticed that attendance had been entered for ICT09.2 on Monday when school was closed. Unfortunately, the system has accepted the data on both counts, and I cannot find a way to remove the entries, only to amend them. Note, that I have not tried to add a non-active code to the settings or to delete any entry from PHP tables.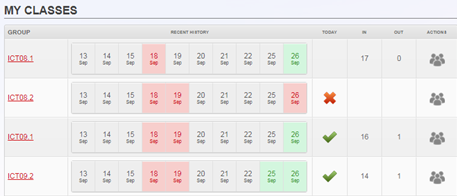 Has this problem arisen before and how was it solved, or has this issue been addressed and patched in the new version?
Regards,
Andy Richards.