Hi,
I have to produce transcripts for the students in which I have to display results by skill, by term with group averages. I am currently looking for the best way to enter grades into Gibbon in order to develop a transcripts printout.
Plan A
I tried entering results with the "Markbook" option.
This allows me to enter results by term, but I am not able to enter them by term/skill.
Could Unit or Lesson fields allow me to manage skills?
Plan B
I tried to enter results with the "Formal assessment" option.
With this, I could create assessments for each term/skill, but I will have to calculate the scores per term, the averages…
Example for one course: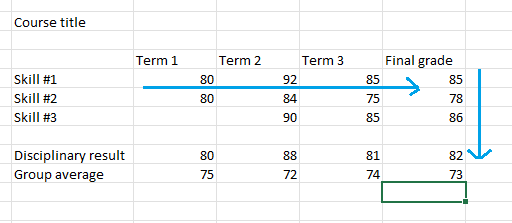 THANKS !
Sylvain
Gibbon : v25.0.01, PHP v8.1.2, MySQL v8.0.35, Ubuntu 22.04.3