Is there a view that shows all Facilities in use at a particular time or Facility use for the day?
Hi Tieku, under Learn > Timetable > View Available Facilities you can see what facilities are not in use, but at the moment you cannot see the inverse. Can you let me know if the above report helps, and if not, what your use case is? Thanks! Ross
Hello Ross,
This might be what a school is looking for.
Can I select a facility and see what times it's open/available throughout the day?
Are you saying I can see what facilities are not in use, but not which ones are in use?
Thanks
Tieku
Hi Tieku,
There are actually two reports, that between them have this covered. Learn > Timetable > View Available Facilities shows you all unused facilities in each timetabled period. View Timetable by Facility allows you to select a facility, and shows you when that space is and is not in use.
Cheers,
Ross
View Timetable by Facility is probably what this school needs. However, they are used to a particular view as shown in the screenshot. You can quickly see when each classroom is/is not available. How much customization would this require?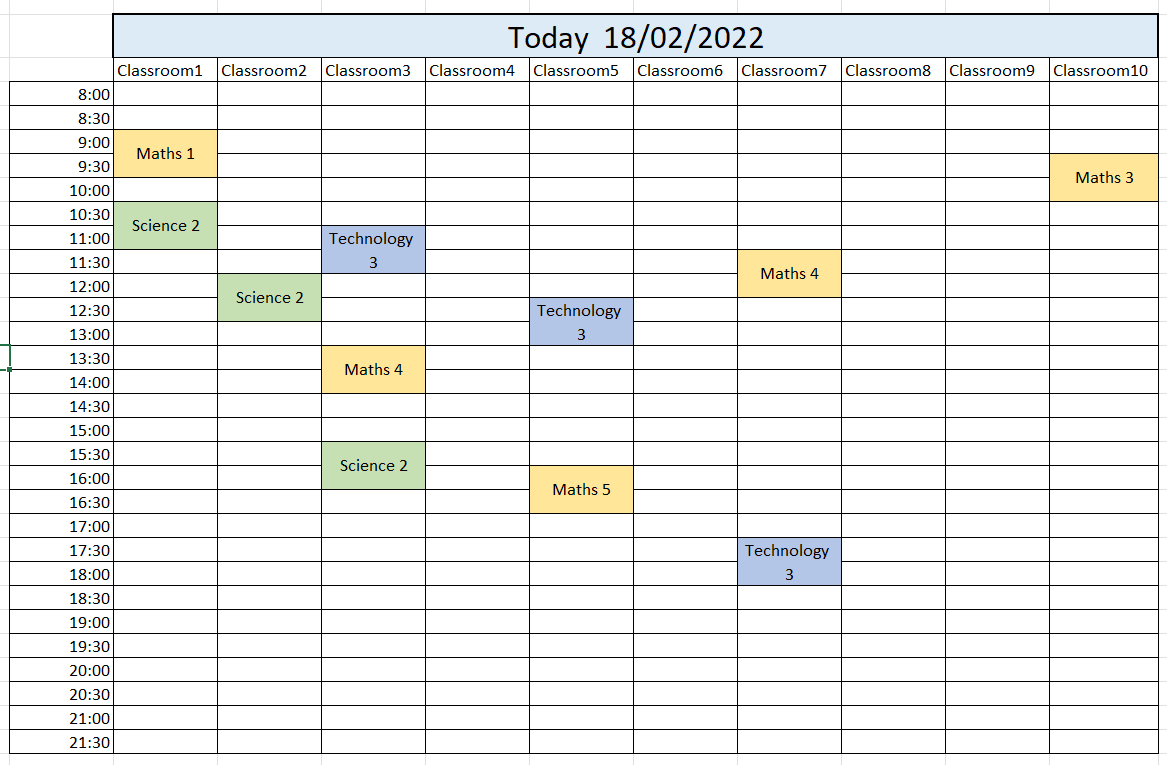 Hi Tieku, it is hard to show all in-use facilities in the way that you show, as there would be a lot of overlaps when multiple facilities are in use at the same time. However, we could customise View Available Facilities to have a switch that allows it to show used facilities in much the same way that it currently shows available ones. My guess is that this would be around 90-minutes work to develop and test, should it be work you wish to sponsor. Cheers, Ross.
Hi Ross,
Sending you an email. Thanks
Hi Ross,
I do not understand what you mean by "there would be a lot of overlaps" as each column is distinct to a facility. In the screenshot, there are 2 facilities (Classroom1 and Classroom2) in use from 11:00 to 11:30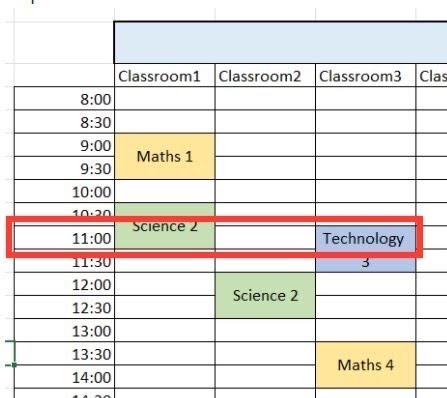 Thanks
Hi Tieku,
Please accept my apologies, I misread the report, thinking the header row contain dates, rather than rooms. Would such a design not end up requiring a lot of sideways scrolling?
Thanks,
Ross
Yes. I was thinking about that. The answer would be yes.
Could it be contained in a frame? Or transpose the view, to have facilities going from top to bottom?
Hmm. Once you introduce that much scrolling, in either direction, doesn't it become hard to see where the gaps are, making the table less useful?
Ross, if you did want to go this route, there is some sideways scrolling css available from other areas like the markbook and activity attendance, but I'm not sure how well that would play with a timetable-style view :grimace:
My feeling aligns with yours Sandra. In addition, adding another timetable report, with significant overlap to what exists already, adds more complexity without adding, in my opinion, a lot of extra value.
Tieku, I'll email you later on today about this one, to see what we might do.