Hi,
Fist of all, I would like to congratulate you for the flexibility you have integrated into Gibbon.
The flexibility of Gibbon allows me so far to adapt Gibbon to the practices of schools in Canada to validate if Gibbon could be an option.
In the student file, I need to add information that is required by our Ministry of Education. I did some testing with Custom Field and I think it might work.
In order to simplify the entry of information, I would have liked to be able to isolate the fields of our Ministry of Education in an independent entry screen without having to develop a new module.
Would the idea below be a nice feature for Gibbon evolution?
Add a new field in the Custom Field definition to indicate that a Custom Heading must be entered in a standalone page.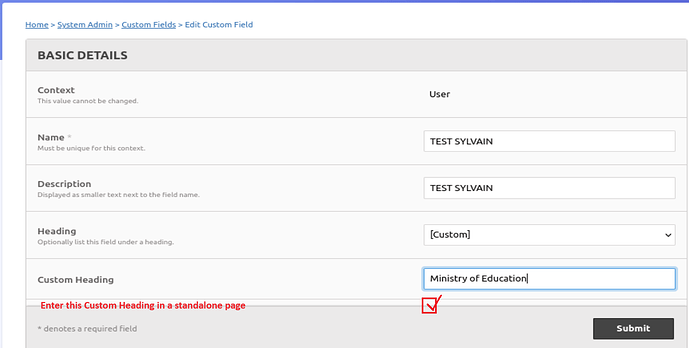 Modify the student profile to add Custom Heading that must be entered on a standalone page.

For your information, the information in the images is anonymous information

THANKS !
Sylvain
Gibbon : v25.0.01, PHP v8.1.2, MySQL v8.0.35, Ubuntu 22.04.3