Hello Admins,
I would like to thank you for the following:
Trusting us with the DB updates, and recommending DB updates (in cases where it is the only way to resolve an issue).
Your Db table naming scheme. It is so easy for us to identify the tables' functions. I just successfully migrated string replacements from one site to another using the "GibbonString" table.
I have a question though about the DB. What are the GibbonTT* tables for?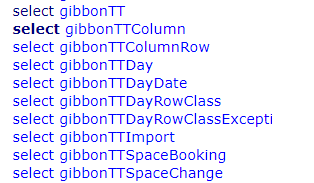 Regards,
achief